Limitless Equipment
Regular price
Sale price
$2.00
Unit price
per
Sale
Sold out
Note that this is for the UK only.
We aim to offer the best prices in the UK, including fast shipping. If you can find cheaper, let us know.
A no brainer addition to your outdoor kit. If you are doing anything remotely  adventurous you should assume that you will be using a local water source, having a reasonable number of these water purification tablets will ensure that you are safe.
Available in lots of 10, 50 and 100 tablets.
Supplied unboxed and in sheets of 10 individually sealed tablets per sheet. Each tablet contains 8.5mg of NaDCC (Sodium dichloroisocyanurate) and is enough to make 1 litre of water safe for drinking.
Oasis Water Purification Tablets are:
Used by the worlds leading NGO's & British military
Proven to kill harmful water organisms
Effective against diseases such as typhoid, cholera, polio and diarrhea
Convenient and easy to use
Make water safe to drink in 30 minutes
ISO 9001
GMP
British Retail Consortium (BRC)
NSF Standard 60
Halal Certified
Expiry Date: January 2025
Share
View full details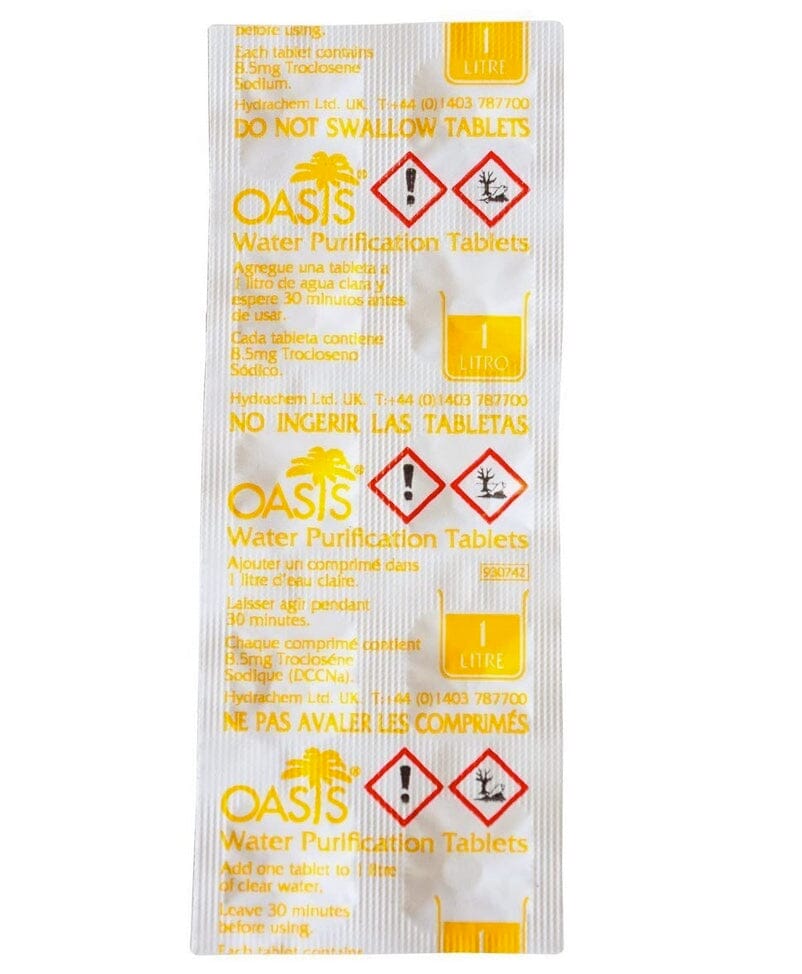 ""Superb - I have brought Limitless Equipment kit before and it has been great quality. This bag exceeded my expectations, I am using it in my LandRover daily for just about everything."