Limitless Equipment
Regular price
$67.00
Sale price
$52.00
Unit price
per
Sale
Sold out
The pouch is based on the UPDATED Generation 2 pouch - improvements in fabric, bar tacked reinforced stitching, zip pulls, etc - this pouch will last a lifetime, and then some.


FULLY STOCKED with more than 75 high quality items. Space blanket, bandages, plasters, spray bottle, RAT style tourniquet and more. This is not a Mickey Mouse kit: it's for serious use and abuse with each item chosen for quality and real world usability.

HIGH QUALITY Manufacturing: Our utility pouch is MOLLE compatible and made from 1000 D waterproofed ballistic nylon, seams are overbuilt and double stitched to take maximum abuse, the oversize YKK no.3 zipper is smooth and easy to access the contents, even with cold hands or thick gloves.

ELASTICATED internal loops: the pouch ensures everything is protected remains organised and easy to access.

RAP Pocket: Rip out the Rapid Access Pouch for frequently used items such as plasters, medication and other items.

PREMIUM UK MADE CONTENTS: Plasters, bandages, tape etc are all premium quality MADE IN THE UK by Steropore. Our Kits are assembled in the UK in Oxford. We don't use cheap "filler" contents, we only use the best medical gear we can source. Exceeds British Standard compliant BS8599-1:1:2019 for travel and motoring.
1000D, super tough MOLLE compatible fully stocked First Aid Kit for outdoor Emergency use.
The Alpha First Aid Kit from Limitless Equipment is a premium emergency kit for serious outdoor use, containing all you need for emergency first aid in your vehicle, backpack or home. Primarily designed for multi person use in the military or backcountry, the 1000 Denier super tough waterproofed fabric has numerous internal loops to organise your gear and ensure accessibility. The contents are Made in the UK and the best available quality - this kit is built to last and won't let you down.
Designed in the UK by the team at Limitless Equipment with decades of work in extreme environments.

CONTENTS:
Renewables:
Made in the UK Medium dressing bandage 12*12 Large dressing bandage 18*18 Steroply Conforming bandage 5*4 Low absorbent burn dressings Cotton Crepe Bandage 7.5 X 4.5m Premium high adherence fabric plasters, waterproof assorted Adhesive sutures (5 x 75mm x 3mm) Triangular Bandage (non woven: 90cm x 90cm x 127cm) Clinical wipes (x 6) Zinc oxide tape (25mm x 10m) x 1 roll
Hardware:
Tourniquet StormPaper waterproof paper (3 x 5") Pencil Stainless Steel tweezers - black Trauma shears (Large 19cm) 10 ml spray bottle (PET) Survival blanket Nitrile gloves (blue) Zip ties X 4 Safety pins Embroided badge Weight: 650 grams / 23 oz 21 * 16 * 12 cm / 8 * 6 * 4.5"
Share
View full details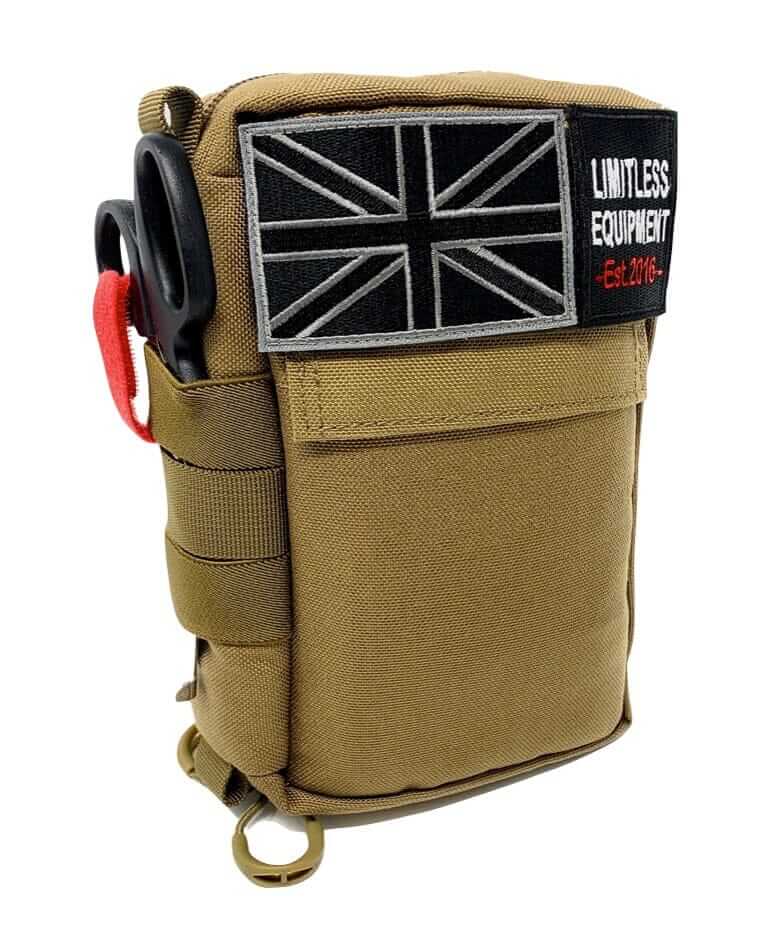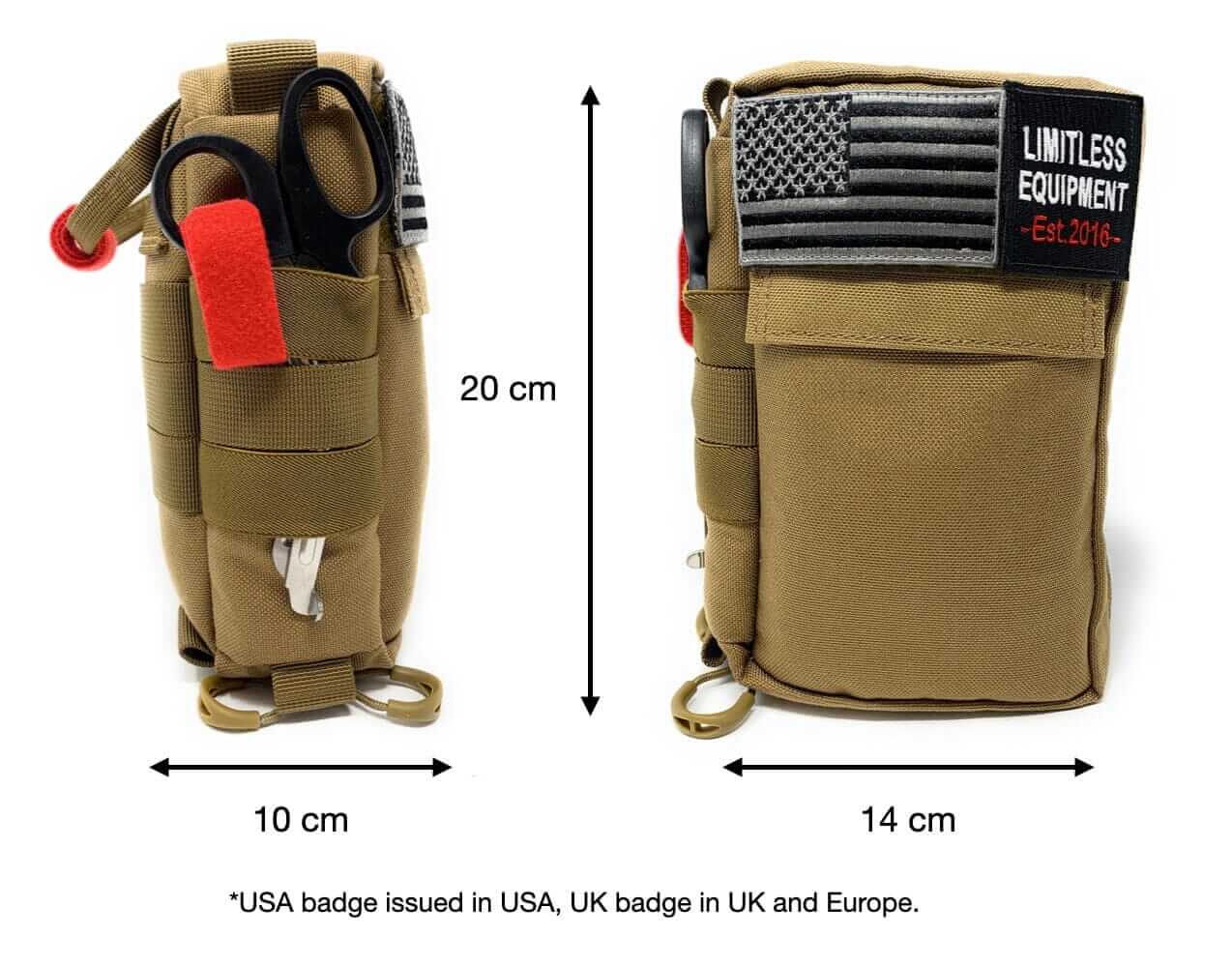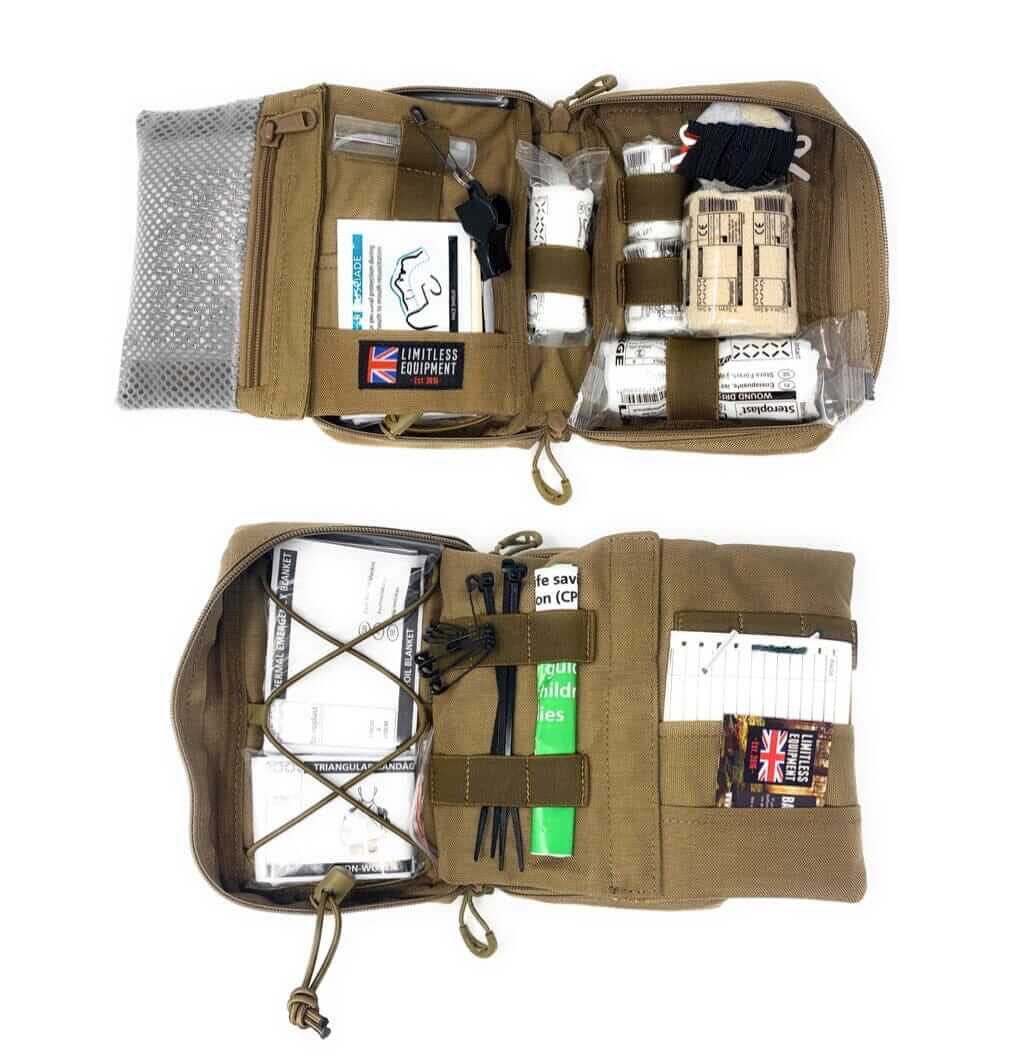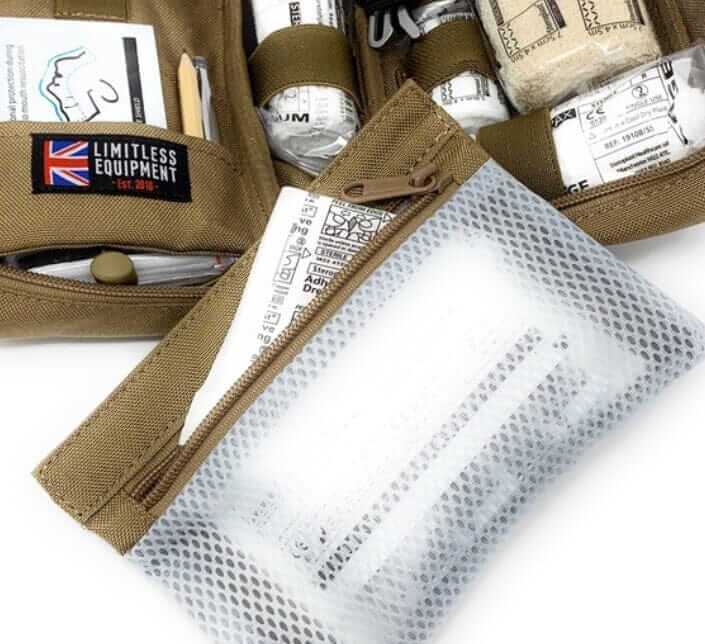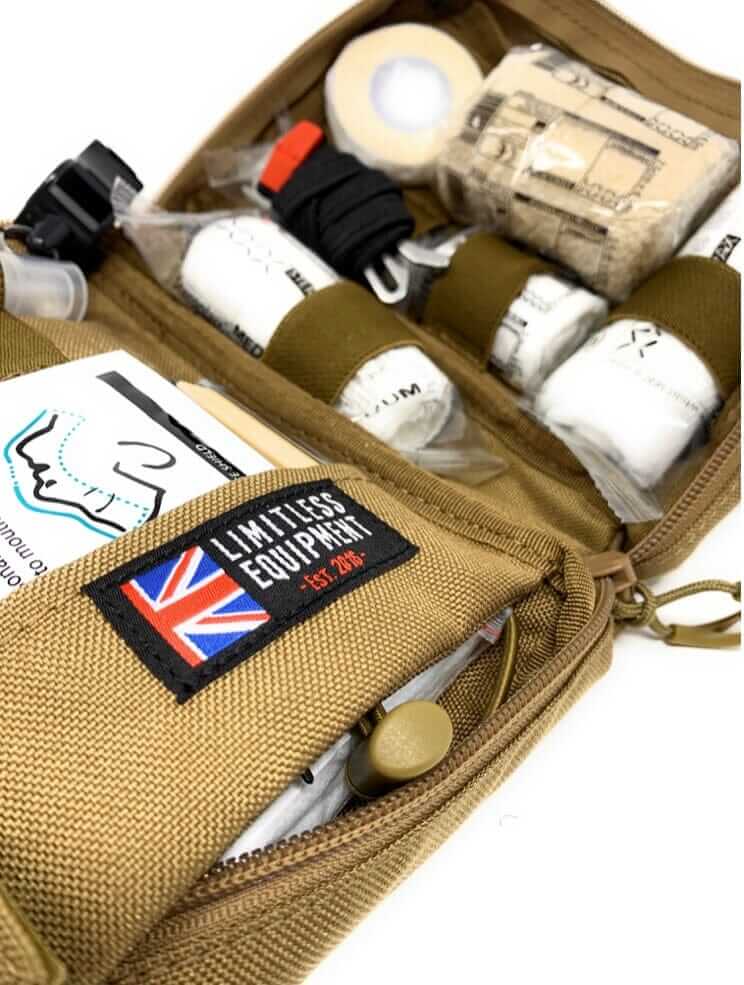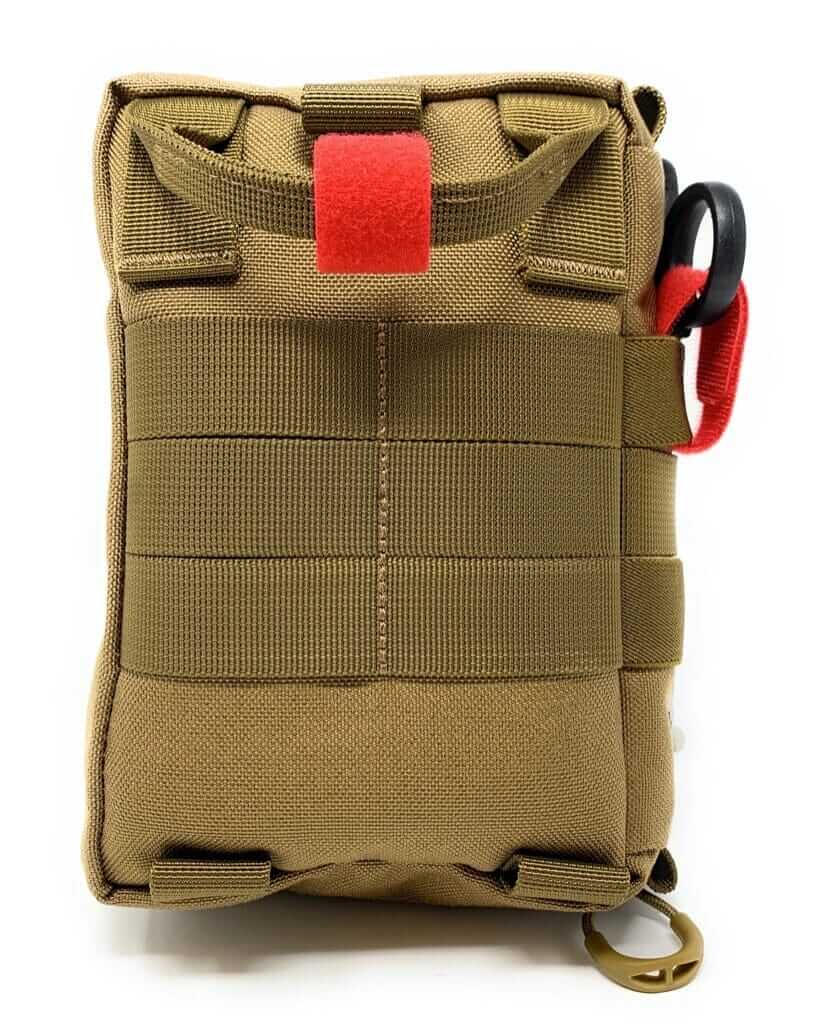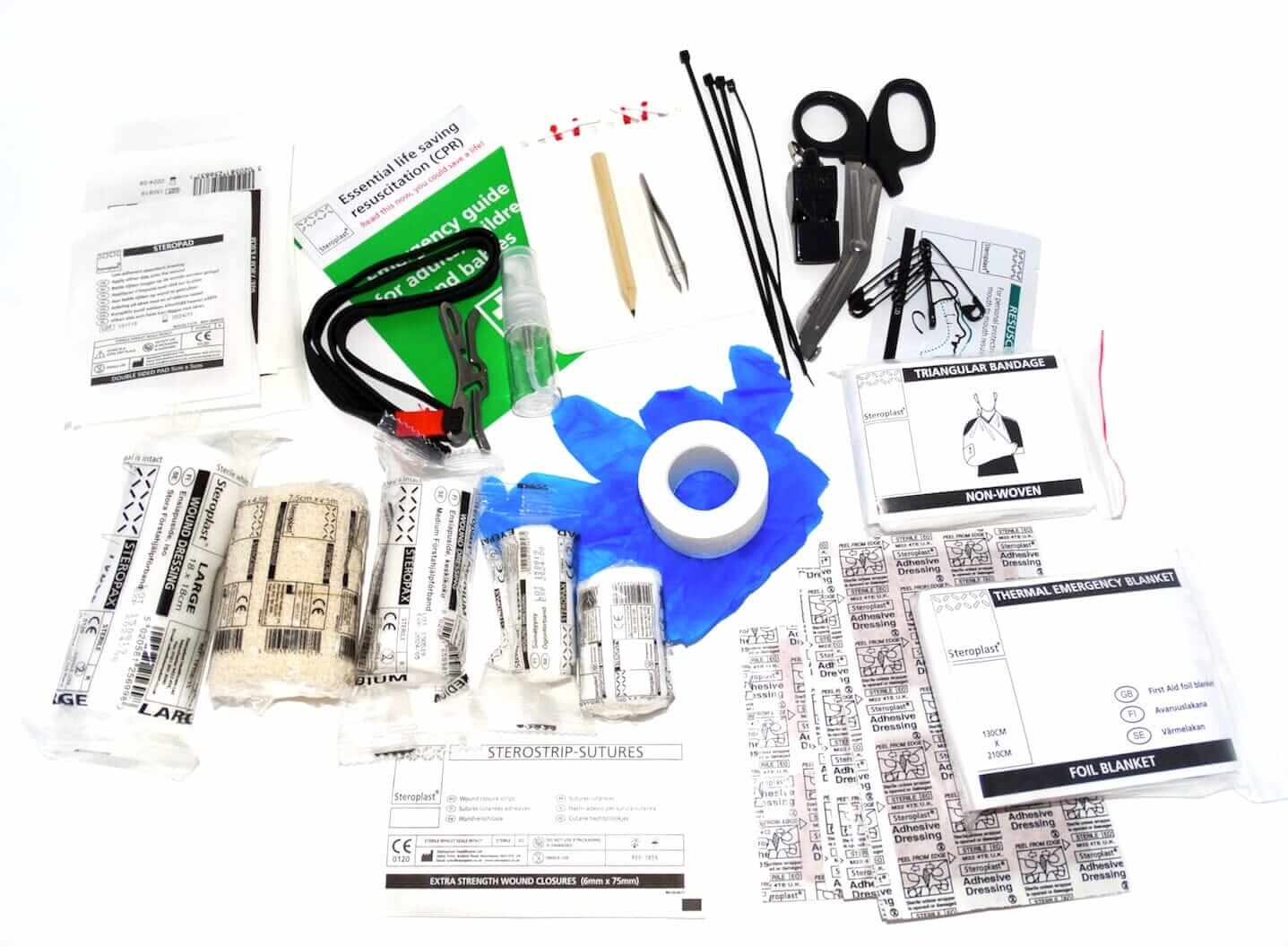 ""Superb - I have brought Limitless Equipment kit before and it has been great quality. This bag exceeded my expectations, I am using it in my LandRover daily for just about everything."